Motto 2023
"Action in Motion - Project: acting effectively" is the motto of the Summer Academy 2023.
We see conditions and circumstances that we want to change, we have many wishes, dreams and ideas. We are full of energy and yet many projects come to nothing or feel too big and hardly manageable.
Often, at the end of the Summer Academy, we hear how enriching the week was for each individual, but also the question of how we can take what we have learned and experienced into everyday life, how the seed we have planted can become a plant and not wither away again straight away? Can we achieve anything sustainable at all?
Our opinion is: YES
We can change something and make a difference - we can help shape the future. With people who think and act in the same direction, a little planning, perseverance and of course a vision and the knowledge that the future is not something that lies ahead - the future is now. What we call the future is being created now. From the seed we sow today, which we water and supply with nutrients, the plant/tree of tomorrow emerges.
And that is exactly why we want to become EFFECTIVE with you NOW. Life means constant change on all levels. Constant change means constant movement. Even though it often seems as if nothing is happening when we look at the current crises and challenges in the world. We don't want to look at it any longer but take responsibility and take action ourselves. The Summer Academy will be a place where we do not argue, but come together, FOR a self-effective individual in the world.
For this reason, this year we have set our focus on:
From thinking to doing - from concepts to action - from idea to project.
Vom Denken zum Handeln. Vom Konzept zur Umsetzung. Von der Idee zum Projekt
Vision
To cope with everyday life and one's profession with a self-image of capacity for action and physical and mental vitality requires knowledge of the facts, certainty about possible courses of action and the power of decision to make use of them. Systemic, ethical and personal challenges, especially in the field of medicine, require self-responsible action and the ability to deal with conflict in order to implement ideas and act promptly and responsibly.
Today's world is characterised by contrariness, new dramatic events every day and apparent incompatibility of life realities, especially also with regard to access to food, education, health care and equal opportunities. It is important to grasp these areas of tension and learn to shape them, to endure controversies and to act self-effectively within them.
The deepening of an integrative, patient-oriented perspective in health professions as well as the strengthening of a new holistically oriented generation of doctors, therapists, nurses and all others working with people and in the health system is and remains a central theme of the Summer Academy.
Our goals for the week stem from this:
To promote empowerment and individual capacity for implementation.
Learning tools for change processes and crisis resilience
The introduction and deepening of diverse integrative medical methods and salutogenesis
Interdisciplinarity, networking and broad accessibility
Making aspects of sustainable living tangible
Plan for the week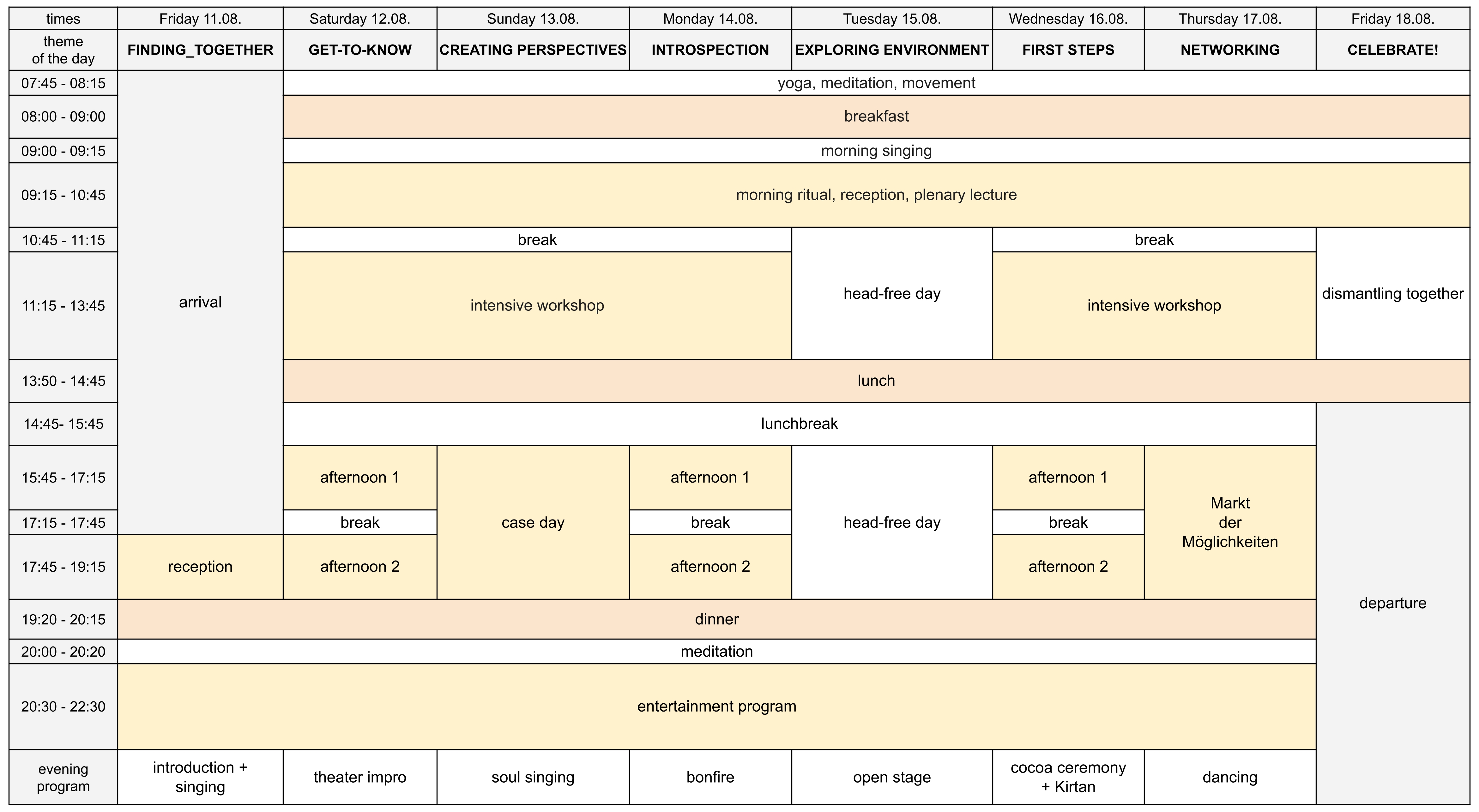 Explanation of the plan:
We all start the day together after breakfast and morning singing in the Audimax with the morning ritual. Immediately afterwards, you can take part in the plenary lecture.
Before lunch, everyone has their individually chosen intensive workshop, which lasts 2.5 hours and runs for the whole week.

In the afternoon there is a wide range of impulse workshops. In each 90 minutes you can listen to afternoon lectures, move physically or mentally, play, dance, laugh and sing.

The days are integrated into our supporting social programme: yoga and meditation in the morning and afternoon/evening, regular breaks and the ever-changing evening programme.
This year we are happy to introduce the Case Day again. There, different integrative medical disciplines present themselves on an acting patient.

On Tuesday, the middle of the academy week, you have time for yourself and your thoughts. The head-free day is planned without any workshops.
At the end of the week, we offer you the opportunity to get to know organisations, projects and interesting people at our small fair, the Market of Possibilities (MdM), so that you can make further contacts and take your first steps.
Acadamy guide 2023
The current academy guide will apear here shortly.
Covid-19
Due to the current development of the pandemic, the Academy will be planned as it was pre-pandemically. Should new developments occur, the hygiene concept with regard to room occupancy, contact tracing, compulsory testing and masking will be adapted to the conditions prevailing in the summer and implemented.
Info
further content will appear soon